In no particular order.
George Clooney:
Oh...
Note to self:
if I ever sing professionally again, I will have it written into all my contracts that I will not allow myself to be upstaged by a burning automobile.
Ben Stiller:
what. the. hell. I'm not even going to put a question mark there, because I don't want to know.
Salma Hayek:
You looked and sounded amazing. You made me question how gay I really am. But then the camera swung back over to George Clooney...and I remembered
how gay I am
.
DOLLY, YOU WERE ROBBED, I LOVE YOU!Reese,
I was rooting for you. I hope those rumors aren't true.
George Clooney:
"I'm proud to be part of this Academy. I'm proud to be part of this community. I'm proud to be out of touch." God bless you. Jeebus Crispies, will people stop apologizing for being liberals already? Stop denying that Hollywood is liberal, as if there's anything to be ashamed about. Liberals ain't the ones ruining the economy, starting unprovoked wars and blaming the gays for it. Sheesh. Yes. I'm a liberal. Want to make something of it, you tax cutting, Constitution editing theocratic lemmingtard? (This word of the day courtesy of
Spencer
.)
Random Guy in the Kitchen at the Party with the Horrible Dye Job Who Said, of Narnia, "Yeah, isn't that, like, totally based on the Bible?":
Clearly you are unfamiliar with both. Be gone.
Jon Stewart:
No, you didn't bomb. Who said that? I wouldn't say
bomb
.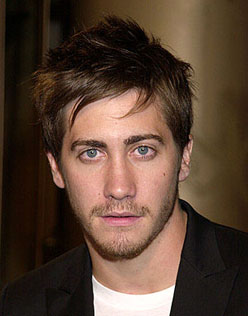 Jake Gyllenhaal:
Aw...
George Clooney:
Really, you should host the Oscars. You're the only one with real class. Actually...hmm, you kind of have that "gravitas" thing down, too. President Clooney...hmm, hmm...well, just a thought.
The Crash Song:
I can't decide which awkward moment lasted longest. Ben Stiller, Lauren Bacall, or you.
Brokeback Mountain:
You know, I never really thought it was
that
good. Honestly. It was brave. It was beautifully done. Some courageous performances. Emotionally, though, I got way more caught up in
Narnia
and
King Kong
. Still, I voted for you in the Oscar pool at work.