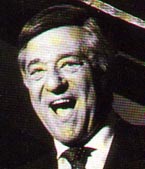 I only got to hear him live once, which was at the Yankees' season opener in 1998, when he sang the national anthem. (It was definitely the highlight of the afternoon.) Even with all the other stadium noise and the far-from-concert-quality of the speaker system, the then-81 year old baritone's mahogany-colored voice was vibrant and powerful. I can only imagine what a thrill it must have been to hear him in his prime in the opera house.
I discovered Merrill in 1992, when I was still very much a novice when it came to opera. I had purchased a highlights album of Puccini's
La Boheme
, which I picked not for the cast, since I wasn't familiar with that many singers, but rather because it was the only option at the Tower Records in Beaverton, Oregon. At the beginning of the opera, the baritone Marcello ascends to a high F on the phrase, "Per vendicarmi affogo un Faraon!" The richness of Merrill's sound in the upper register caught my attention immediately, and I've been a fan ever since.
Somewhere along the way I came across a used copy of his autobiography,
Once More from the Beginning
, which I believe is out of print. (He also wrote another book,
Between Acts
, which is a collection of opera-related anecdotes, but is far inferior to the biography.) He was born Moishe Miller to Polish immigrants in a cold-water flat in Brooklyn. I remember being very moved by the recollections of his very humble childhood, and inspired by how hard he worked to get his career off the ground, and comforted by the lucky breaks that allowed him to get his foot in the door. He partnered the greatest singers of his age, and made legendary recordings that still stand as masterpieces of such works as
Il barbiere di Siviglia, Il Trovatore, Un Ballo in Maschera, La Traviata,
and my personal favorite, a 1963
Rigoletto
with Anna Moffo.
He also possessed a great sense of humor; a story goes that, dying onstage as Valentin in
Faust
at the Met, he rolled over to the mezzo singing Siebel and muttered, "Oy, it hoits!"
My favorite Merrill story came straight from the mouth of one of his colleagues, the tenor Gabor Carelli. The two were appearing in
La Traviata
at the Met with soprano Joan Sutherland in the title role, who was as famous for her mushy diction as she was for her stratospheric high notes and fearsome coloratura. As the cast gathered in the wings to watch La Stupenda sing the difficult aria that ends the first act, Merrill turned and whispered, "And now ladies and gentlemen, Miss Sutherland will sing 'Thuppralubberuh.'"
Thanks, Mr. Merrill.