Meistersinger
begins and ends firmly in glorious C Major. Aside from its length (at six full hours, it remains the longest opera in the standard repertoire), there is nothing especially unconventional about its composition. Wagner is saying, "I didn't break the rules writing
Tristan
out of ignorance." One of the themes is that tradition should never stand in the way of a good idea.
Yet tradition is incredibly important to Wagner, and this is where the accusation that Beckmesser is some sort of anti-Semitic buffoon falls apart. In Nürnberg, Wagner has created his vision of an ideal society: there is no poverty, there is no class warfare, and everyone is equal with the single exception of artistic talent, through which true genius can be recognized. Of all the characters in the opera, Wagner has assigned Beckmesser to be the guardian of tradition.
Political correctness is a social invention of the present era, in which racism or other –isms are detected primarily in perceived slights. Wagner was hardly politically correct. He wrote and published horrifically offensive things concerning Jews and Judaism, and certainly didn't censor himself in person, either. He even tried to badger Hermann Levi, the handpicked conductor of his final masterpiece
Parsifal
, into getting baptized before the premiere. Yet for some reason, people persist in believing that Wagner went to the trouble of disguising these sentiments within his operas.
If
Meistersinger
contains anti-Semitic themes, and if Beckmesser is supposed to represent the "Jewish" character, who would he be and what would happen to him?
Beckmesser is not some penny-ante villain from a melodrama, nor is he Shylock; he is the rule-keeper of the highest, most revered guild, that of the Mastersingers, into which Wagner has placed his own stage-avatar. The other Masters treat him with respect and deference in Act I, and even if Sachs baits and teases him in Act II, it is always polite. Outside of his role as a Mastersinger (which implies he possesses a certain degree of artistic genius himself), he is an important member of civil society: the town clerk. This means he is educated in law and letters. His downfall comes through his own arrogance and inflexibility; he steals Walther's prize-winning song and attempts to perform it himself. Bogged down as he is in "rules," he is unable to comprehend the new style, and makes an ass of himself. What is his punishment? Laughter.
Beckmesser is not evil, merely a curmudgeon; in his way, he is bemusing and even sort of endearing. Each of us knows or has known a Beckmesser in our day, and there is nothing stereotypically "Jewish" about him. In fact, if you were to view
Meistersinger
as some view the Ring – that is, as an allegory of the human conscience, where each character represents an aspect of human personality – then there is a Beckmesser in each of us. Mine, for example, happens to dislike "
My Humps
." Yet the crowd applauds.
Beckmesser suffers no great fall; he is not removed from the Guild or banished from Nürnberg, let alone killed off. If you accept that Nürnberg represents for Wagner the ideal society, then either he placed a "Jewish" figure at the respected center of it, or Beckmesser is not the anti-Semitic cartoon he is accused of being.
Of course, the latter conclusion is the more likely. This idealized "Nürnberg" is hardly a diverse, pluralistic society. My argument that Beckmesser is not an anti-Semitic character is not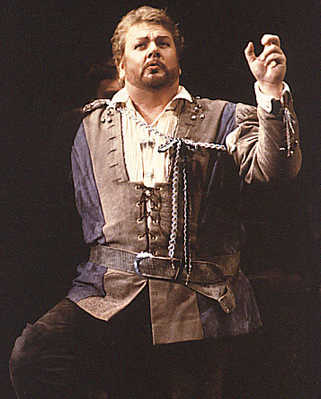 intended to be taken as either a defense or denial of Wagner's racialism; rather that the charge of anti-Semitism, as applicable as it is to the composer, is generally not applicable to his compositions.
Not surprisingly, Walther wins the competition and the hearts of the people of Nürnberg, in addition to Eva; he is decorated by Eva's father with a medallion bearing the likeness of King David; yes,
that
King David, the one to whom are attributed most of the greatest poems in the biblical book of Psalms. (This is an anti-Semitic opera?) Initially Walther declines membership in the Guild of Mastersingers, but Sachs admonishes his arrogance.
"Even if the Reich should fail," sings Sachs, "for us will remain holy German art." Those of us who live on this side of the Holocaust might perceive those words as a threat; but we've only to look at another civilization – that of ancient Greece – which has long since departed the face of the earth, but whose art and culture form many of the bases of our own today. For Wagner, politics is temporal but art is eternal.
Long live Wagner's art.